Illustrations in the early editions of EJO's books are lovely.
A BRIEF BIOGRAPHY
Elsie Jeanette Dunkerley was born at Southport, England in 1880, to Margery Anderson and William Arthur Dunkerley, a novelist in his own right but whose works (penned under the pseudonym 'John Oxenham') are now overshadowed by those of his eldest daughter. Elsie had three sisters - Marjorie (or 'Maida'), Theodora and Erica, and two brothers, - Roderic and Hugo. The family in the first years of the 20th century was living quite comfortably on William's proceeds from his mainly devotional writings in Bedfords Park, Ealing, West London. Little is known about Elsie's early life. Authors attempting to fill in the details have had to rely on the dedications in her books, as admitted by Rosemary Auchmuty in her useful paperback on girls' fiction, 'A World of Girls'.
Elsie's first book, 'Goblin Island', was set in Scotland. Her mother was Scottish and the family spent many holidays north of the border. The book concerned an unmarried female writer who served as her father-writer's secretary and is thought to have been partly biographical. "Goblin Island' was so successful that Elsie decided to become a full-time author. Both she and her sister Erica adopted her father's pen name. Unlike most writers who stick to one publisher, Elsie used 17 different ones throughout her lifetime; quite possibly more than any other English children's author.
Elsie was a keen member of the English Folk Dance Society and used her experiences to form her fictitious 'Hamlet Club' who held an annual crowning of a May Queen at their dance meetings.
The Club was later to become the central theme of the "Abbey" series which was by far Elsie's most popular series of books. She attended the EFDS vacation schools at Cheltenham and Chelsea. The family moved to Worthing in 1922 by which time Elsie had become a 'Guardian' in the American Camp Fire Movement, another subject which often came up in her stories. She was a keen naturalist, with a love of animals (all the cats in her stories reflected ones she'd met in real life), music and dancing.
The Oxenham family was very close, a point quite obvious to readers of the biography on Elsie's father, authored by her sister, Erica - and also to Elsie's readers with a number of books being dedicated to members of her family. Elsie Oxenham passed away in a Worthing nursing home, in January 1960.
Elsie Jeanette Oxenham wrote 87 books and many short stories for girls between 1907 and 1959. Her books, particularly the Abbey series were extremely popular in Britain, Australia & New Zealand.
Now the girls who read her stories are grown up and many have become collectors who avidly search for the missing titles in the series. There are at least 3 clubs catering for EJO collectors, one in each of the countries mentioned above. In Australia there are at least 400 collectors of these books.
The appeal of these books and most of the schoolgirl series of the time was the gradual development of the characters and their lives.
Unlike many Schoolboy series where the characters stay much the same age through several or dozens of books, the girls in these
series grow up. The Abbey series starts with a group of girls aged 14-17years old and ends with their children being about this age.
The characters became friends to the readers and to find out what happened next always held and still does hold immense appeal.
The Abbey series (including main connecting stories) contains 45 books, of these only 22 are fairly easy to locate
and 15 or so of the remainder are almost impossible to find in Australia. Occasional copies turn up but these are few and far between.
Monica Godfrey, the former editor of the Abbey Chronicle in the UK. has written a biography of EJO - a must for all collectors.
It has been published by Girls Gone By.
EJO: A Study, by Stella Waring and Sheila Ray, is being published as ISLAND TO ABBEY, again by Girls Gone By.
---
Lighting The Fire; Elsie J. Oxenham, the Abbey Girls and the English Folk Dance Revival, by Alison Thompson
Elsie J. Oxenham (1880-1960) wrote nearly ninety books for English school-girls, forty of which, the "Abbey Girls" series, incorporated
English folk dancing into the school-girl plots and romances. Cecil Sharp (one of the founders of the English Folk Dance Society), Maud Karpeles, May Gadd (the long-time director of the Country Dance & Song Society of America), Helen Kennedy North and other teachers
of the early folk revival make appearances in Oxenham's works. Some of Oxenham's descriptions and comments are detailed enough to provide the reader with insight into the early folk revival in England: the range of dances available, methods of teaching dance and the attitudes and impressions of devotees and onlookers towards dancing. Oxenham wrote in picturesque and romantic terms about the pleasure that folk dance brings to its participants. Her work thus represents one easily accessed window onto the romantic fervour that fuelled the folk dance revival in both England and the United States. Lighting The Fire summarizes and analyses Oxenham's work as it relates to English folk dancing. Published in 1998 by The Squirrel Hill Press. 84 pages. Fully indexed. ISBN 0-9666563-0-X
Allison Thompson is a folk musician, dancer and writer.
Her most recent work,
Dancing Through Time: Western Social Dance in Literature, 1400 - 1918, Selections, was published by McFarland and Company, Inc., 1998.
Lighting the Fire can be ordered from Allison Thompson at 1623 Denniston Avenue, Pittsburgh PA 15217 USA for $10.00 + S&H ($US, please). or email for more details allisonthompson@juno.com
You'll find Allison's publishing site, The Squirrel Hill Press', at www.musicsleuth.com/sqpress
---
Here is a complete list of books by EJO books in alphabetical order
(omitting "a" or "the" at the start of the title).
ABBEY CHAMPION 1946
ABBEY GIRLS 1920
ABBEY GIRLS AGAIN 1924
ABBEY GIRLS AT HOME 1929
ABBEY GIRLS GO BACK TO SCHOOL 1922
ABBEY GIRLS IN TOWN 1925
ABBEY GIRLS ON TRIAL 1931
ABBEY GIRLS PLAY UP 1930
ABBEY GIRLS WIN THROUGH 1928
ADVENTURE FOR TWO 1941
BIDDY'S SECRET 1932
CAMP FIRE TORMENT 1926
CAMP MYSTERY 1932
CAPTAIN OF THE FIFTH 1922
CONQUEST OF CHRISTINA 1909
CRISIS IN CAMP KEEMA 1928
DAMARIS AT DOROTHY'S 1937
DAMARIS DANCES 1940
DANCER FROM THE ABBEY 1953
DARING DORANNE 1945
DEB AT SCHOOL 1929
DEB OF SEA HOUSE 1931
DOROTHY'S DILEMMA 1930
ELSA PUTS THINGS RIGHT 1944
EXPELLED FROM SCHOOL 1919
FIDDLER FROM THE ABBEY 1948
FINDING HER FAMILY 1916
GIRL WHO WOULDN'T MAKE FRIENDS 1909
GIRLS OF GWYNFA 1924
GIRLS OF THE ABBEY SCHOOL 1921
GIRLS OF THE HAMLET CLUB 1914
GO-AHEAD SCHOOLGIRL 1919
GOBLIN ISLAND 1907
GUARDIANS OF THE ABBEY 1950
HOLIDAY QUEEN 1910
JANDY MAC COMES BACK 1941
JEN OF THE ABBEY SCHOOL 1927
JINTY'S PATROL 1934
JOY'S NEW ADVENTURE 1935
JUNIOR CAPTAIN 1923
MAID OF THE ABBEY 1943
MAIDLIN BEARS THE TORCH 1935
MAIDLIN TO THE RESCUE 1934
MARGERY MEETS THE ROSES 1947
MISTRESS NANCIEBELL 1910
NEW ABBEY GIRLS 1923
NEW GIRLS AT WOODEND 1957
PATCH AND A PAWN 1940
PATIENCE AND HER PROBLEMS 1927
PATIENCE JOAN, OUTSIDER 1923
PEGGY AND THE BROTHERHOOD 1936
PEGGY MAKES GOOD 1927
PERNEL WINS 1942
PRINCESS IN TATTERS 1908
QUEEN OF THE ABBEY GIRLS 1926
RACHEL IN THE ABBEY 1952
REFORMATION OF JINTY 1933
ROBINS IN THE ABBEY 1947
ROSALY'S NEW SCHOOL 1913
ROSAMUND'S CASTLE 1938
ROSAMUND'S TUCKSHOP 1935
ROSAMUND'S VICTORY 1933
SCHOOL CAMP FIRE 1914
SCHOOL OF UPS & DOWNS 1918
SCHOOL TORMENT 1920
SCHOOL WITHOUT A NAME 1924
SCHOOL WTH THE ROUNDHEADS 1915
SCHOOLDAYS AT THE ABBEY 1938
SCHOOLGIRL AND SCOUTS 1914
SCHOOLGIRL JEN AT THE ABBEY 1950
SECRETS OF THE ABBEY 1939
SECRETS OF VAIRY 1947
SELMA AT THE ABBEY 1952
SONG OF THE ABBEY 1954
STOWAWAYS IN THE ABBEY 1940
STRANGERS AT THE ABBEY 1951
SYLVIA OF SARN 1937
TESTING OF THE TORMENT 1925
TICKLES OR THE SCHOOL THAT WAS DIFFERENT 1924
TOMBOYS AT THE ABBEY 1957
TROUBLES OF TAZY 1926
TUCKSHOP GIRL 1916
TWINS OF CASTLE CHARMING 1920
TWO FORM CAPTAINS 1921
TWO JOANS AT THE ABBEY 1945
TWO QUEENS AT THE ABBEY 1959
VEN AT GREGORY'S 1925
Due to the interest shown in EJO's books both in Britain & overseas 2 of Elsie's previously unpublished stories have been published by her family in the last few years - "A divided patrol" & "Deb leads the dormitory".
Not included in the above list are the books which form part of another book, as follows:
GIRLS OF SQUIRREL HOUSE
GIRLS OF ROCKLANDS SCHOOL
SECOND TERM AT ROCKLANDS SCHOOL
THIRD TERM AT ROCKLANDS SCHOOL
CALL OF THE ABBEY.
1. GIRLS OF THE HAMLET CLUB
2. ABBEY GIRLS
3. GIRLS OF THE ABBEY SCHOOL
4. SCHOOLDAYS AT THE ABBEY
5. SECRETS OF THE ABBEY
6. STOWAWAYS IN THE ABBEY
7. SCHOOLGIRL JEN AT THE ABBEY
8. STRANGERS AT THE ABBEY
9. SELMA AT THE ABBEY
10. TOMBOYS AT THE ABBEY
11. ABBEY GIRLS GO BACK TO SCHOOL
12. GO-AHEAD SCHOOLGIRL**
13. TICKLES OR THE SCHOOL THAT WAS DIFFERENT**
14. JEN OF THE ABBEY SCHOOL*
15. NEW ABBEY GIRLS
16. ABBEY GIRLS AGAIN
17. ABBEY GIRLS IN TOWN
18. QUEEN OF THE ABBEY GIRLS
19. ABBEY GIRLS WIN THROUGH
20. ABBEY GIRLS AT HOME
21. ABBEY GIRLS PLAY UP
22. ABBEY GIRLS ON TRIAL
23. BIDDY'S SECRET*
24. ROSAMUND'S VICTORY*
25. PATCH AND A PAWN**
26. MAIDLIN TO THE RESCUE *
27. GIRL WHO WOULDN'T MAKE FRIENDS**
28. JOY'S NEW ADVENTURE
29. ROSAMUND'S TUCKSHOP*
30 MAIDLIN BEARS A TORCH
31 SECRETS OF VAIRY**
32. ROSAMUND'S CASTLE*
33. DAMARIS DANCES (COVERS 3 YEARS BEST READ HERE)*
34. ADVENTURE FOR TWO**
35. MAID OF THE ABBEY
36. NEW GIRLS AT WOODEND **
37. JANDY MAC COMES BACK
38. TWO JOANS AT THE ABBEY
39. ABBEY CHAMPION
40. DARING DORANNE**
41. ELSA PUTS THINGS RIGHT**
42. ROBINS IN THE ABBEY
43. MARGERY MEETS THE ROSES**
44. FIDDLER FROM THE ABBEY
45. GUARDIANS OF THE ABBEY
46. RACHEL IN THE ABBEY
47. DANCER FROM THE ABBEY
48. SONG OF THE ABBEY
49. TWO QUEENS AT THE ABBEY
* Not set at the Abbey but really part of the series,
**Connectors (stories about characters that later appear in Abbey books)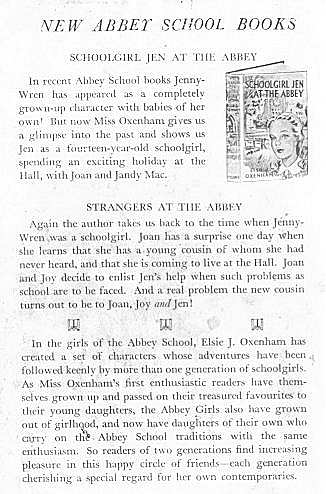 Collins' explanation for the retrospective titles in the series,
taken from the reverse of Gladys Lister's STARLIGHT BELONGS TO ME dust jacket..
Collecting Books and Magazines Bookmart
Collecting Books & Magazines Main Index