Tri-ang Railways, Tri-ang and Triang Trains in the glorious red and yellow boxes, mostly from Margate, Kent.
TRI-ANG RAILWAYS PIN-UPS (1)
Beauty is in the eye of the beholder.
Even the boxes deserve to be framed ... !
Main Tri-ang Page with links
This page updated 30th January, 2008.
While experimenting with photographic close-ups of the few items I've picked up on eBay since November, 2005, I came to realise how much character these fine toys and models possess. Even similar models, probably from the same moulds, have distinctive characters, due no doubt to the owners who have handled them over the years. Technical notes will be found at the end of the page.


I escaped from Martin's engine house while he was at the computer.

It's mine; I saw it first!

More maroon and custard 9" BR coaches would be nice.


I feel naked without my battery box! (Soon to be fitted.)

Well, I lack the magic Tri-ang in my description, but aren't I handsome?

Tug-of-war. All I need is a maroon Jinty (and a couple of buffers for 8477).

Phew, this scale length coach is heavy; I prefer 9" or shorter! Faded nameplate below.

Really nice; how could I resist it?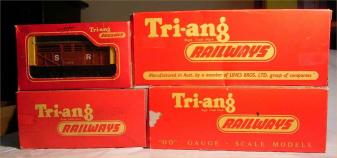 Aren't the boxes eye-catching; my heart skips a beat when I see one, let alone four!

This nameplate is badly faded.
Subscribe to the Tri-ang Yahoo List
for access to scans.
Photos taken with a Ricoh Caplio G4 3.2 MP camera; greatly reduced in size for this web page.
Taken inside in natural light, no flash, just a desk lamp with halogen globe, using a tripod and time delay.
Only the 'Duchess' photo is satisfactory, IMHO.
Suggestions
Do - Surround with non-reflective white, e.g., sheets or pillowslips. But allow to under-exposure.
Don't - place the loco on track if you're listing it for sale, but if you do, place a mirror under the track
to highlight the wheels, etc. Better still, take multiple photos.
Next page >>>>>>>>>>>>>>>>>>>>